ESR 9: Development of an in vitro method for evaluating the impact of gastrointestinal (GI) transfer on performance of enabling formulations under fed state conditions
The project aims at the development of an in vitro method for evaluating the impact of gastrointestinal drug transfer process on the performance of oral drug products under fed state conditions. Due to the very limited luminal data available in literature and the lack of luminal data after administration of enabling drug products under dosing conditions suggested by regulatory agencies, the project has two objectives. The first is to conduct a clinical study to assess the drug GI transfer process when an amorphous solid drug product is administered after a standard high-calorie, high-fat meal. The second objective is to design and implement in vitro a biorelevant in vitro GI transfer system for evaluating the drug disposition in the upper GI lumen after oral administration of immediate release and enabling drug products in the fed state. The in vitro implementation of the biorelevant system will be performed during the industrial secondment.
Shirin Nika Dietrich is a licensed pharmacist from Frankfurt am Main, where she studied Pharmacy at the Johann Wolfgang Goethe-University. During her studies and an internship at the Institute for Pharmaceutical Technology, Shirin developed a passion for pharmaceutical technology and biopharmacy. As an elective intern at the Institute of Pharmaceutical Technology, Shirin could apply and put her theoretical knowledge regarding biorelevant dissolution testing into practice.  
After her studies, Shirin worked as an intern at Merz Pharmaceuticals for six months. There Shirin got the chance to gather experiences in the fields of Nonclinical Development, GMP, and laboratory work.
Shirin is highly motivated to deepen her knowledge in the biopharmaceutical sciences and strengthen her scientific skills.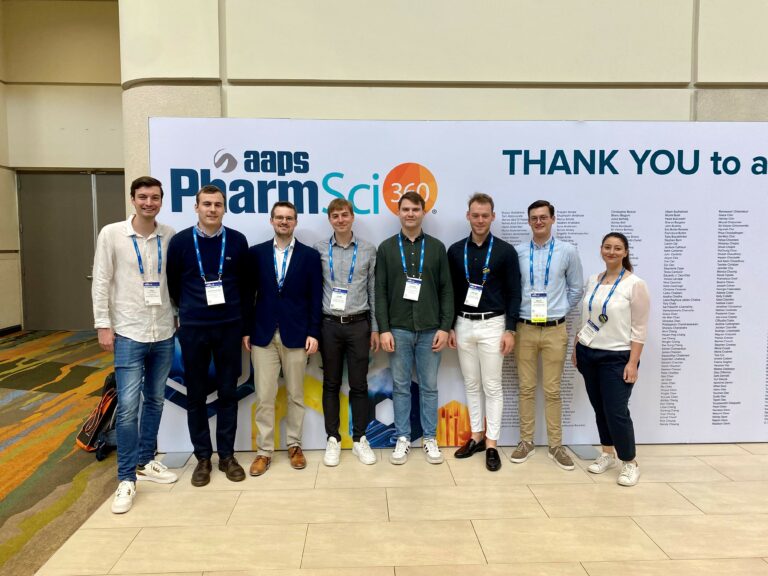 Join us in celebrating the achievements of our InPharma Early Stage Researchers (ESRs) at the recent AAPS Meeting in Orlando! Eight of our talented ESRs
Read More »