ESR 7: Comparison of rDCS to the pre-clinical suspension/solution approach for formulation selection
The rDCS approach for formulation selection will be applied to a range of drug candidates and compared to animal-based studies.
The objectives of this project are twofold: i) verification of the superiority of the rDCS approach to identify the most appropriate formulation strategy for different drug substances compared to animal-based studies and ii) establishment of an rDCS-based guide to formulation selection as an animal-free approach to oral drug product design.
Kristian Beran is a licensed pharmacist joining the InPharma Project as ESR 7 at Janssen Pharmaceutica NV and the Fraunhofer Institute for Translational Medicine and Pharmacology ITMP. He holds a degree in Pharmacy from the Johann Wolfgang Goethe-University, Frankfurt am Main, where he studied from 2015 to 2020. During his studies, he was awarded a scholarship (Deutschlandstipendium) for high-achieving and committed students and he graduated at the top of his class.
Kristian's interest in the biopharmaceutical sciences arose from an internship at the Institute of Pharmaceutical Technology at Goethe-University, Frankfurt in 2018, and a half-year internship at Merck KGaA, Darmstadt in 2020, where he expanded his theoretical knowledge in this area of research and gathered practical experience in the fields of biorelevant in vitro dissolution and in vitro drug precipitation testing. Kristian is a highly motivated and ambitious young researcher and is looking forward to contributing to advances in oral drug development as part of the InPharma Project.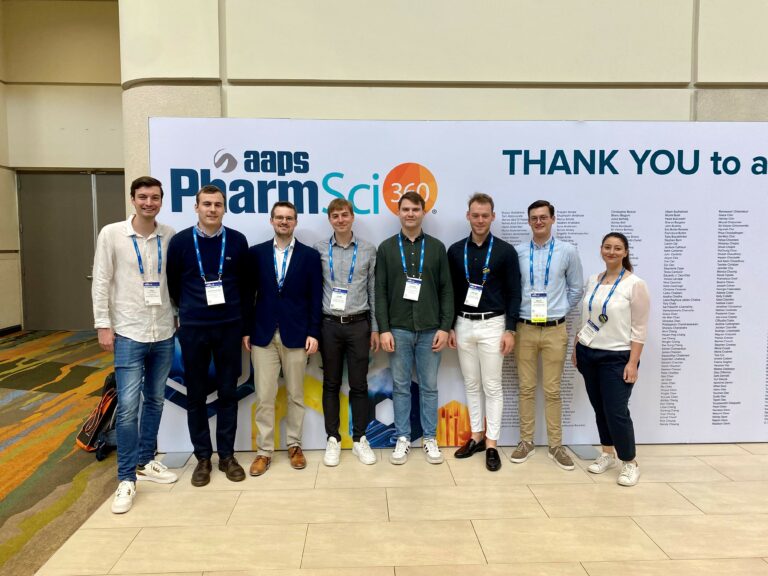 Join us in celebrating the achievements of our InPharma Early Stage Researchers (ESRs) at the recent AAPS Meeting in Orlando! Eight of our talented ESRs
Read More »