ESR2: Modelling drug-excipient solubilisation interactions to predict excipient selection
Hoffmann-La Roche, Basel Switzerland, (Roche)
Supervisor: Dr. Nicole Wyttenbach (Roche)
Planned secondments: UCC (Purpose: Modelling and data analysis, PhD courses)
Justus will apply Quantitative Structure-Property Relationships and Artificial Intelligence to predict solubilizing propensities of excipients. With a focus on nano-carrier and micellar solutions, novel algorithms from mechanistic modelling to machine learning are studied which aid in the design of oral formulations of poorly water-soluble drugs.
By elucidating drug excipient interactions, Justus will contribute to collecting mechanistic insights about solubilization and by that landscape new approaches for predicting optimal excipient selection for solubilized systems.
To combine his interests in natural sciences and the health care industry, Justus Lange started his academic career by matriculating in the degree program pharmacy in 2016 at the University of Greifswald in Germany. Early on, Justus applied theoretical knowledge by working in local pharmaceutical companies next to pursuing his degree. As a preregistration pharmacist, he worked at Pfizer in Freiburg, Germany in the "Product & Process Development" department and a pharmacy in Hamburg, Germany.
During that, Justus came to the realization that computational pharmaceutics can streamline the whole product lifecycle of a pharmaceutical drug product.
Member of DPhG: Deutsche Pharmazeutische Gesellschaft e.V.
The education of pharmacists in data science related topics such as artificial intelligence is of utmost importance to streamline the drug development process and to apply deductive formulation approaches in the future. The InPharma network addresses this specific interface, connected with the most relevant questions in drug delivery. This combination guarantees a European-wide scientific exchange that is unique, compelling and forward-looking.
My goal in InPharma is to develop profound data science skills with open source tools while building on my knowledge in pharmaceutical sciences. InPharma guarantees advanced training in various key fields of development and by that facilitates to achieve this goal. By combining this, I hope to contribute to scientific advancements that are directly applied in an industrial environment.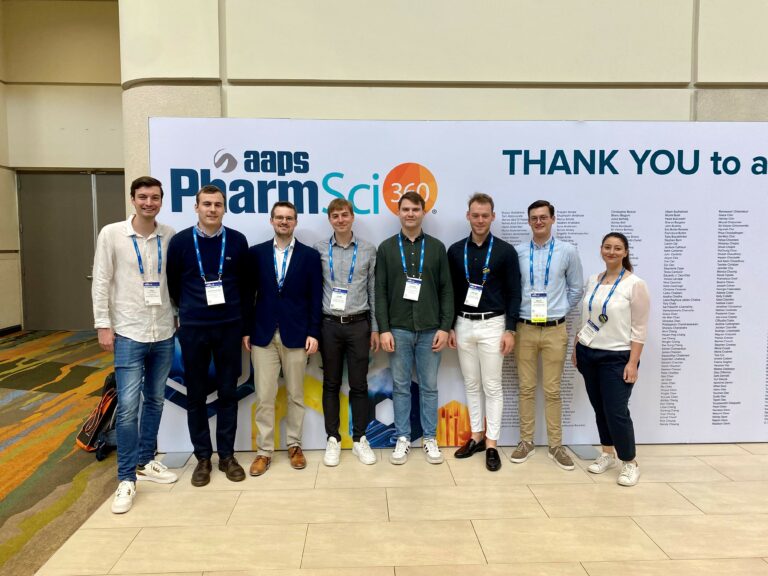 Join us in celebrating the achievements of our InPharma Early Stage Researchers (ESRs) at the recent AAPS Meeting in Orlando! Eight of our talented ESRs
Read More »